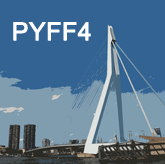 Contact information
PYFF4 Secretariat
Department of Biotechnology
Delft University of Technology
Julianalaan 67
2628 BC Delft
The Netherlands
T: +31 15 278 2416
F: +31 15 278 2355
E: PYFF4-tnw@tudelft.nl

REGISTRATION

Fees
until
19 March 2010
after
19 March 2010
Participant
EUR 490,-
EUR 590,-
Student participant *
EUR 360,-
EUR 460,-
Symposium dinner
EUR 55,-
EUR 55,-

*) To be confirmed by letter signed by university, sent to the PYFF4 secretariat

Payment of the registration fee entitles participants to attend the opening reception, all sessions, lunches, coffee breaks and to receive a free copy of the symposium book.
The symposium dinner, during an evening boat tour through the harbour of Rotterdam, will be on Thursday evening 3 June 2010.
Cancellation
The symposium secretariat must be informed of any cancellations or changes in delegate names, in writing by letter or fax. For cancellations received before 19 March 2010 all fees, less than € 40 in administration costs, will be reimbursed. After this date, the full registration fee will be charged. Refunds will be made after the symposium.
HOW TO REGISTER
The electronical registration forms are closed now. Registration is still possible by contacting the PYFF4 Secretariat, see contact information on the left side.
Application of grants
A limited number of grants for free registration to the conference are available for support of Ph.D. students who present a poster or give an oral presentation. Ph.D. students wishing to apply for a grant should send a letter of motivation, a copy of their abstract submission and a short (1 page maximum) CV, before 19 March 2010 to the PYFF4 Secretariat (Grant applicants will be notified on their application before 15 April 2010).