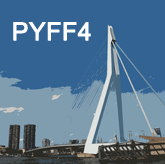 Contact information
PYFF4 Secretariat
Department of Biotechnology
Delft University of Technology
Julianalaan 67
2628 BC Delft
The Netherlands
T: +31 15 278 2416
F: +31 15 278 2355
E: PYFF4-tnw@tudelft.nl

PYFF4
4th Conference on Physiology of Yeast and Filamentous Fungi
June 1- 4, 2010, Rotterdam, the Netherlands
Department of Biotechnology of the Delft University of Technology

---
Introduction
Research on the physiology of yeasts and filamentous fungi is booming and scientific interest in these 'lower' eukaryotes continues to grow. Key drivers include their relevance for industrial biotechnology, food and pharmaceutical industries and their role as highly accessible eukaryotic models for systems biology.
Three previous, highly successful editions of the Physiology of Yeasts and Filamentous Fungi (PYFF) conferences in Hindsgavl (2001), Anglet (2004) and Helsinki (2007) have brought together researchers active at the frontline of research on yeasts and filamentous fungi. Since the Helsinki meeting, the field has seen further spectacular developments, including the sequencing and analysis of important yeast and filamentous fungal genomes, the introduction of single-cell approaches in fungal research and breakthrough results in metabolic engineering. PYFF4 will celebrate these scientific developments and, once again, provide a platform for exchange of concepts between the yeast and fungal research communities.
PYFF4 will be organized in a dynamic environment: the harbour City of Rotterdam, the Netherlands. The conference venue, the Rotterdam World Trade Center, is located in the city centre, with excellent accessibility (plane, train) and many hotels in the immediate vicinity. The social event, an evening boat tour through the harbour area with an onboard dinner, will provide ample opportunity to take in more than fungal physiology.
The conference will be held from Tuesday June 1 (evening reception) - Friday June 4, 2010.
The scientific programme covers 3 full days.

Topics
- From genome sequence to physiology
- Differentiation and evolutionary adaptation
- Ultrastructure and compartmentation
- Signalling and regulation
- Metabolic engineering and synthetic biology
- Stress responses and robustness


Former PYFF Conferences :
- PYFF3 (Helsinki, Finland), 2007
- PYFF2 (Anglet, France), 2004
- PYFF1 (Middelfart, Denmark), 2001